Officially, you cannot remove your name on WhatsApp. WhatsApp also does not have a privacy option to hide it, like how you can hide profile pictures from certain contacts and whatnot.
But, you can still "hide" your WhatsApp name by following this simple and cool trick. Here's how you can do it:
First, copy the invisible text from below. (That you can generate easily from our blank text generator. You can generate shorter or longer invisible text there.)
After that, open your WhatsApp app.
Go to 'Settings'.

In

Settings page

, tap on your name or profile picture to open

profile page

.

Then in

Profile page

, tap on your name or pencil icon to edit your WhatsApp name.

Delete your "old" name from here.

Paste "invisible text" to replace your name and then tap 'Save' button.

And done. Your name will now appear blank like its been hidden.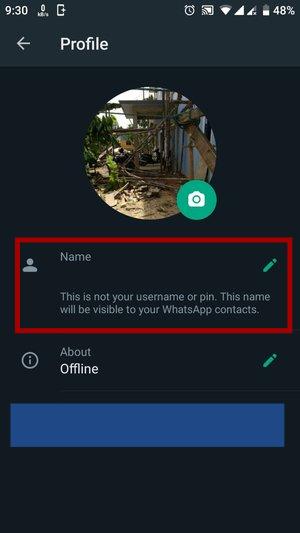 Technically, there is still a name there, but because its an invisible character, it give the illusion that we have no name. Yup, it's that easy.
Is it safe to do this?
Yes, it should be safe. There is no rule in WhatsApp that you have to use your real name. It's different from Facebook, which forces you to use your real name (or face the consequences); there is no rule like that on WhatsApp.
As for the character that I use, it should also be safe because it's a universally recognized character. I already explained it here about the character I use.
---
Please note that while using this special characters that we provide, can create an illusion of blank name, future versions of WhatsApp might not allow this. It might automatically replace blank names with your phone number or assign a default name like "No Name."
Additionally, other WhatsApp users may still be able to identify you through your profile picture or your status updates, so this method does not provide any anonymity. Its just for fun.
---
If you encounter any issues, please leave a comment below. Thanks for stopping by. See you in the next article. Again, I'm still learning to write in English, so any suggestions or corrections are highly appreciated.