Ever thought about pranking your friend on WhatsApp by sending them an empty chat message? If you're nodding your head, then you're in the right place! We've got your back and we'll show you how to pull off this hilarious trick to have a blast with your buddies.
Messing around with your friends on WhatsApp can be a total riot and spice up your chats. Whether you wanna catch your friend off guard with a blank message or simply enjoy their reaction to an empty chat, trust us, it's a piece of cake!
So, without further delay, let's get started. Here's what you need to do to send an empty or blank chat on WhatsApp:
First, copy an invisible character from our generator tool.
Then, open your WhatsApp app.
Open one of your personal chats or group chats.
Paste those invisible characters into your chat.
Finally, tap the 'Send' button.
And you're done!. There should be empty message being send on those chat room.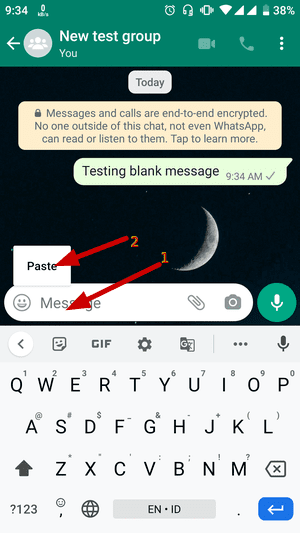 Again, It may appear empty to them, but there is actually an invisible HTML character present in the message. And don't worry, we use 'Hangul filler character' for the invisible character on our generator. Its not some random or unsafe character.
---
I hope this article helps guide you on how to send blank messages on WhatsApp. As you may have noticed, there may be a few awkward sentences here and there. I'm not a native English speaker (or writer), so any corrections to my grammar and writing are greatly appreciated. And yeah, i use chatGPT to correct me. 😀
Thanks for reading this far. God bless ya.